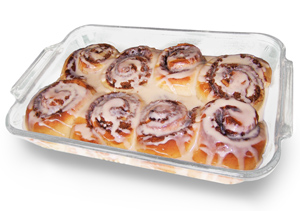 Spelt Cinnamon Buns
2015-12-17 10:09:48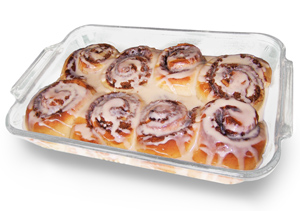 Yields 8 rolls.
For the dough
1 cup milk
3 cups white spelt flour, if dough is too sticky, you may need to add a little more
¼ cup melted butter
½ cup granulated sugar
1 tsp salt
2 tsp yeast
For the filling
½ cup firmly packed brown sugar
1 tablespoon cinnamon
For the glaze
1 cup confectioners sugar
2 tablespoon milk
1 tsp vanilla
Instructions
Warm the milk and add the yeast to the warm milk.
Add 1 tablespoon of sugar to the warm milk and yeast. Next melt butter in microwave.
Pour warm milk and yeast into the bread maker, add the 3 cups of spelt flour and salt, then add the melted butter. Turn on the breadmaker and knead the dough only until the flour has all been stirred in. Be careful to not over knead. Allow the dough to remain in the breadmaker to rise, but do not let it knead anymore.
Allow the dough to rise to double its's size in the breadmaker.
Transfer dough to a floured pastry sheet and roll dough to a 12x 14 inch piece. Spread with room temperature butter and then sprinkle the brown sugar and cinnamon mixture on top of the buttered dough.
Roll dough up from the longest side. Cut roll in half, then cut in half again and cut those pieces in half. This will give you eight buns.
Bake in an 8x12 buttered glass baking dish.
Place each roll in the buttered baking dish. Place the pan of rolls in a larger pan with 1 inch of boiling water in it. This will keep the rolls very moist. Place the rolls in a cold oven, and set the temp to 375 degrees. Bake 35-40 minutes till the rolls are a nice golden brown. Mix together all the ingredients for the glaze and frost the rolls while they are still warm, not hot.
Small Valley Milling https://smallvalleymilling.com/
Order Online: