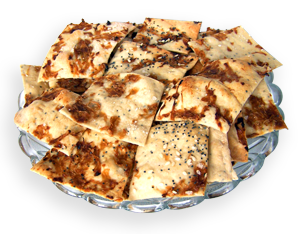 Spelt Crackers - Onion Seeded
2015-12-17 10:16:49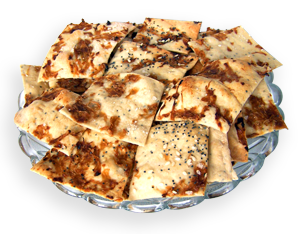 Enjoy....these crackers are easy to make and even better to eat. Yields about 3 1/2 dozen 2x4 inch crackers
Topping
1 Tablespoon sesame seeds
1 Tablespoon poppy seeds
¾ tsp kosher salt
Onions
Shred 2 large onions. Drain all the onion juice off. Place onions in a small sautee' pan. Sautee' onions until slightly brown. Allow to cool.
Dough
2 cups of white spelt flour
1 tsp. table salt
3 tablespoon extra-virgin olive oil
½ cup warm water
Instructions
Position oven rack in the lower third of the oven and pre-heat oven to 450 degrees F
In a large bowl, whisk the spelt flour, and salt. Add the olive oil and water to the flour. Stir with rubber spatula until it collects into a soft, crumbly ball of dough. Use the spatula or your hands to press the dough against the sides of the bowl to mix all the flour.
On floured surface roll some of the dough until it is very thin. With a pastry brush, brush the dough lightly with water, then spread some of the onions over the thinly rolled dough. Sprinkle with kosher salt and seed mixture. With pizza cutter cut the dough in rectangles about 2 in by 4 inch. Do not bother to trim edges, uneven edges add character to the crackers. Transfer the dough to a baking sheet. Bake until nicely browned about 10 minutes. Repeat until all dough is rolled and baked.
Notes
Store the cooled crackers in a sealed container or plastic bag. They will keep up to a week.
For variations
You can put seeds in dough instead of sprinkling on top of crackers.
Try different spices, garlic or your favorite seeds.
Small Valley Milling https://smallvalleymilling.com/
Order Online: